The 5 BHK Luxurious Villa with Private Swimming Pool & Turf!
Kingston Pride is spectacular from every standpoint. Located near Della Adventure and surrounded by beautiful mountains with an absolute serene view. The property has a private pool which is directly accessible from the living room and also has top-notch interiors with a capacious seating area.
The property is equipped with everything that you need for a perfect vacation like – Cricket-Football Turf, 8-Ball Pool, Table Tennis, Table Soccer, Foosball and Chess.
WEEKDAY TARIFF: Up to 10 Guests:
• Monday-Thursday : ₹21,000/- a day.
* Above 10 Guests: ₹1000/- per person per day.
WEEKEND TARIFF: Up to 15 Guests:
• Friday – Sunday : ₹36,000/- a day.
* Above 15 Guests: ₹1000/- per person per day.
WEEKEND needs to be booked minimum for 2 nights, either Friday & Saturday OR Saturday & Sunday.
– You can book 1 night on Friday or 1 night on Sunday.
– If you are looking forward to book a Saturday, then Saturday needs to be clubbed with either Friday or Sunday.
Walkthrough of the property:
Living Room
A well-balanced modern interior design gives a clean and fresh look.
The furniture pushed against the walls, leaving the rest of the floor space open and uncluttered.
The living room accommodates large groups in a comfortable, casual, and elegant atmosphere.
The staircase maximizes vertical circulation and allows the social spaces to expand.
The living room opens to the swimming pool and deck area.
The living room has an attached bathroom.
Bedrooms
The villa has 5 spacious air-conditioned bedrooms with attached bathrooms.
2 bedrooms have 1 king-size beds each, 2 bedrooms have 2 king-size beds attached together for group accommodation and 1 bedroom has a queen-size bed.
Extra mattresses are available.
Fresh linen and pillows are provided in all rooms.
All bathrooms are modern and have geysers for hot water supply.
Entertainment & Games
The living room is equipped with a 55″ Smart Satellite TV and a JBL 3.1 music system with a woofer.
A separate music system is available at the swimming pool and deck area.
Indoor games: 8 Ball Pool, Table Tennis, Table Soccer, Foosball and Chess.
Indoor games: Cricket – Football Turf and Swimming Pool.
Kitchen & Meals
The kitchen is equipped with a refrigerator, microwave, 2 burner gas stove, 2 burner fast gas and a water purifier.
The dining table can seat 8 people.
1 Baby high chair is available.
The kitchen is functional and guests can access the kitchen at extra cost.
Ample crockery & glassware is available.
Pool and Turf
The property has a private swimming pool.
Pool Dimension: 28 feet x 17 feet.
Artificial turf for Cricket and Football.
Turf Dimension: 35 feet x 27 feet
Activities
An acoustic guitar is available for music lovers.
Additional Amenities
A Wi-Fi facility is available.
A washing machine is available.
A torch is available.
An iron is available.
A medical kit is available at the villa.
Mosquito repellent is available
A power backup is available.
Fire extinguishers are available.
A gated parking space for 4 vehicles is available.
Other Things to Note
Although the stay is deemed safe, guests are advised to exercise necessary caution for a hassle-free stay.
The pool has a depth of 4 feet – 4.5 feet. Guests are advised to be cautious, especially with children (baby pool is 2.5 ft. deep).
A refundable security deposit of Rs.5000/- will be collected at check-in. This amount is refundable at the time of checkout against any damages.
Villa Rules
Loud music/noise is prohibited outdoor after 10.00 PM, music can be played inside the villa at considerable volume.
Drinking and eating inside the swimming pool is strictly prohibited.
No littering of waste outside compound wall.
1 guest has to provide a photocopy of photo ID (Aadhar Card) at the time of check-in, the rest guests have to fill in the details required in the form.
Interaction with Guests
The host is not present at the property but is always accessible via call or message. A trained and responsible caretaker is also present at the property to resolve any concerns and help you have a perfect stay.
The villa is conveniently located near Della Adventure, Lonavala
Guests can indulge in activities like Rajmachi trek or take a stroll outdoors.
Some nearby attractions include the Della Adventure, Karla caves, Wax museum, Bushi Dam and Water park located at close distance from the Kingston Villa.
Distance From Mumbai
From Central Mumbai: 96 km.
From Navi Mumbai (Vashi): 69 km.
From Chhatrapati Shivaji International Airport: 96 km.
3.3 km from Khandala Expressway Exit & 900 meter from Della Adventures.
Distance From Pune
From Pune International Airport: 76 km
4.8 km from Lonavala Exit to Old Mumbai-Pune Highway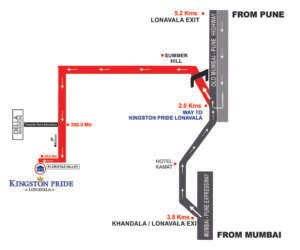 Hospitality from 
 & Soul!
Book a perfect holiday in Lonavala & Karjat
Like, share & follow with Family & Friends